If you are a caravan owner, I hope you to enjoy travelling around Japan by Rental Caravan just in the same style as in your own country.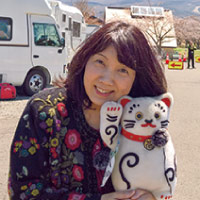 Hello! Thank you for visiting my website. Let me introduce myself to you.
I'm Madam Caravan, a representative of "Rent a Caravan Japan" established as a service of renting a caravan together with a tractor in 2019.
Spanish friends of mine came over to Japan a few years ago.
One of them told me that she had travelled around Europe many times with her family as her father had been an owner of a caravan when I met them, introducing a caravan of my own.
I have noticed that even if there are so many caravan owners in Europe, like Germany, the U.K., Spain, etc. as well as in the U.S., Canada, Australia, New Zealand, they are unable to travel around Japan bringing their caravans under Japanese Law.
An idea of what if the caravan owners from all over the world can travel around Japan with the usual styles as their own has suddenly hit me. I could provide such a service by renting my caravan to them together with a tractor. I wondered what the owners would think about that.
I have been an owner of caravans and driven at least 9,000km a year, and 120,000km altogether so far in these 14 years since 2006. So, to tell the truth, as a female caravan owner, nobody has towed and utilised caravans more than I have in Japan.
Moreover, I used to work for Virgin Atlantic Airways as the first Japanese upper-class sales agent of a reservation department at the head office when I was living in the U.K. For that reason, I can communicate with others in English even on the phone.
I have visited 26 countries and eight regions so far and always wished to become a go-between of Japan and overseas. I have believed there must be something I could do because of my experience.
So, the conversation with Spanish friends of mine has eventually made me realise 'Renting a Caravan' is one of the things I could do for foreign tourists visiting Japan.
There are few caravans or cars with a tow-bar on for rental in Japan, and also few hotels which are available for three people or more in one room.
I am sure that travelling around Japan by renting a caravan (with a tractor) will make your travel as a memorable one.
Please let "Rent a Caravan Japan" help you with your wonderful travel in Japan.
Your booking is most appreciated. Thank you.